Over 3s
April 2019
Wind, Forces, and Reflections!
The recent windy weather has supported the children's interest in wind and forces. They have been exploring how quickly different objects can move and change their speed. Children have used their bodies to explore the force. The children made bubbles using different objects, including hula hoops. They have been exploring shadows and reflections, particularly in the outdoor area. The puddles in the garden have sparked an interest in reflections. Prisms were used in the sun, to explore reflections and rainbows! They also used hanging mirrors to capture reflections in the outdoor area.
The Enormous Turnip
We have been reading the Enormous Turnip to support children's interest in forces and using their upper body strength in different ways to move 'stuck' items. Children have worked together to solve problems, as well as independently, to try out different ideas. The children have learnt new vocabulary which supported their story telling and language.
British Science Week
British Science Week saw children develop their own pulley system in the garden. They also found out about the life-cycle of plants and what they need to survive. Children have planted their own bean seeds allowing them to care for their growing plants. Children also used digital technology to explore the growing plants.
March 2019
Bruce Castle Museum Visit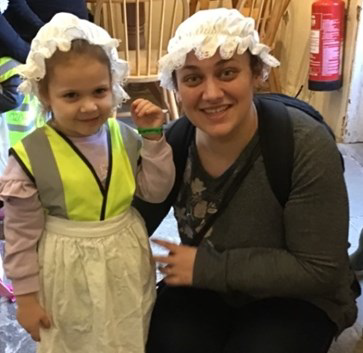 Thank you to all the parents and carers who came on the Over Threes 'Welly Walk' to visit Bruce Castle Museum. It was fantastic to see so many of the children wearing historical clothing and using artefacts to support their understanding. We looked at lots of historical pictures of Tottenham and Pembury and children had the chance to talk about the changes that have occurred over time.
African Activities
We were very lucky to have Kwame visit us in the nursery from a company called African Activities. Kwame used dance, music, drums and songs to tell stories. Children were able to use drums independently to explore different rhythms and tempos and take part in a story telling session. This was a great event and all the children and staff thoroughly enjoyed themselves!
January 2019
The children in the Over Threes nursery have started to explore paper and the many wonderful possibilities of paper. Children encounter paper every day and there are many things they can do with different types and sizes of paper. Children have been interested in the different textures of paper; they have scrunched, rolled, cut and wrapped!
From this exploration children have been using paper to create repetitive patterns! A lot of their explorations are on display in the nursery – please come and have a look.
If you have any interesting or unusual type of paper at home that we could use in the nursery, please do bring it in to share with us!
Cooking:
Children have been doing lots of cooking since returning to nursery, they have made fruit kebabs, which were then cooked on the fire pit during Forest School activities. Children followed instructions to keep themselves safe around the fire, as well as when cutting the vegetables.
Children have also undertaken experimental cooking, learning about different foods and ways to use it! Ask your child about some of the vegetables and foods they have tasted!


December 2018
Story Telling
Children have been really interested in making up and telling their own stories in the Over Threes nursery. Children have been using props from around the Nursery including wooden play people, small animals and picture stones. They have been using ideas from stories they are familiar with to help them create their stories. This has led to children making their own story books from scratch. We have seen a great increase in the children's ability to use a story structure in their own retellings, as well as familiar story language, for example, 'once upon a time' and 'finally'. Children and adults have been using the Pie Corbett talk for writing actions to support their story telling and language development! Children have been very proud of their work, sharing their achievements with their friends and adults.
Maths, maths, everywhere!
Following our inset training with Jo Gordon focussing on motivational maths, children and adults have been taking part in lots of different mathematical activities, both inside and outside. There has been a great fascination in height, length and size. Children have been using associated language linked to measure in all different areas of their learning and play. They have been using 'block play' to further explore different heights and sizes, as well as using natural objects in the outdoor area to order these by length. Children have been using their hands and feet to measure the length of each other and themselves, as well as predicting who is going to be taller or shorter. Children have been sorting and ordering natural materials by colour, size and shape. They have been using natural materials to create patterns and have been 'recording' their findings.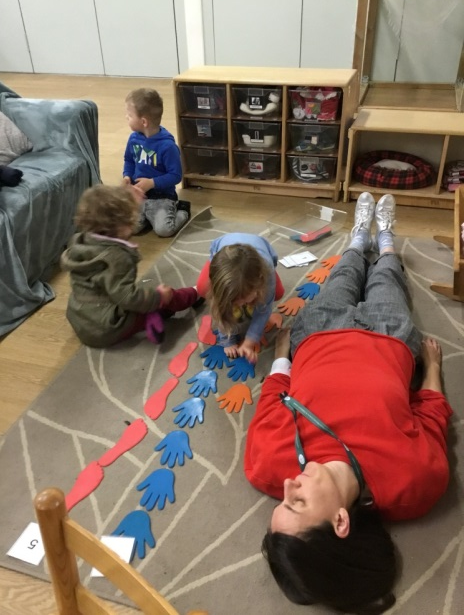 Welly Walks
Both classes went on Welly Walks to Bruce Castle Park with their families. Children and their families spent time exploring nature in the local environment. They looked for different size leaves and were talking about the sizes and comparing them. They also used natural found materials to make faces and sticky leaf and stick collections. Some children decided to use their collections to create natural crowns! Children and their parents had a great time, as did the staff!
October 2018
Harvesting Vegetables
The children have been busy harvesting crops from the vegetable garden. They used 'nursery grown' beetroots to make Borscht, a Russian soup, as well as beetroot salad; the stew was a huge success! Children handled some equipment for the first time, as they became familiar with different tools in the nursery. Tools included using the blender and for some children, the trowels and spades in the garden.
We have also harvested lots of carrots and potatoes, which the children have been exploring by grating, cutting and slicing. They have had a 'grate' time!
Storytelling through Yoga
The children have been using their bodies to retell key texts in the nursery. They have taken on the roles of different characters from both the Little Red Hen and Rosie's Walk, exploring the different movements of each animal. This has led to them invoking imagination and expressive interactions, which will help enormously when they 'innovate' (make up) their own stories. The use of Yoga to explore the movement of story characters has enhanced the children's flexibility and body awareness. We are now using Yoga in our WOW Wednesday sessions to help parents and children relax together.
How Do Tools Work?
We have been busy exploring and finding out how the numerous tools in nursery work, this includes hole punches, screwdrivers, scissors, hammers and gardening tools.
We have also been finding out how to use natural tools, including stones. This has led to a new project in the nursery – 'How Do Tools Work?'' and has helped the children to learn new skills and techniques, which will be developed throughout the year.
This project is helping children to become confident learners and users of the many resources in nursery, as well as developing their independence and their sense of the world around them.
Fish in the Nursery
We now have 13 Guppies in the nursery! The children have been finding out how to care for them – ensuring nobody takes the lid off the fish tank! They have watched them be fed and found out they generally need to be fed everyday but that fish can survive a weekend without food!
July 2018
Caterpillars, butterflies and nature everywhere!
We had caterpillars in the nursery; the children had been very busy watching them closely to see the changes that occurred. The caterpillars provided hands-on learning approach to enable the children to learn about the lifecycle of butterflies and what happens when they have turned from caterpillars into beautiful butterflies.
The caterpillars sparked many questions and thoughts among the children, which they were then exploring the answers to. The caterpillars have led to lots of interest in other insects and bugs, which the children have been busy looking for in the garden!
Robins
We have Robins nesting in the nursery garden, the children have made posters warning people to show care and concern for the Robins and to not be too loud around them! When the Robins have hatched we hope to place the webcam near them to help the children to observe them and to further develop their knowledge and understanding of the birds.
Ants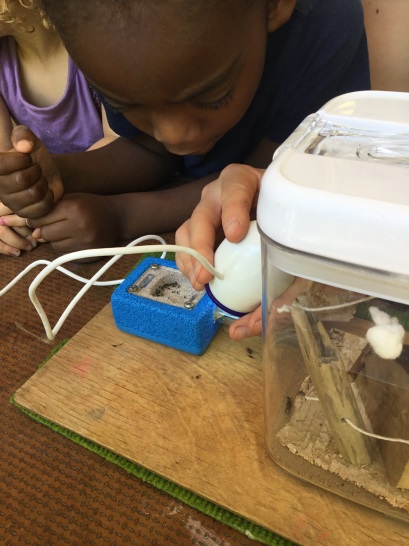 After carrying out the Eco-Schools environmental review, the children decided they wanted to have some pets in the nursery!
With support from adults they have created their own formicarium, (ant nest) for keeping and raising ants in to carry out observations and research. This has led to many questions and thoughts.
The children have been looking after the Queen Ant in a test tube. Some children independently made their own special homes for the ants and other bugs in our outdoor area.
Using Technology to Explore Nature
The interest in Butterflies and Ants has spread throughout the nursery; practitioners have been using technology, projection, light and movement to further support the children to explore their understanding of the world around them and it has now become a mini project.
We have been using the projector to display a range of moving images around the room and onto the children – this has inspired children explore movement and the possibilities of their own bodies in different ways.
The children have been spinning around slowly to the images and flying – their imaginations have really gone wild! Part of the project has been to encourage children to reflect on their learning and to follow their own lines of enquiry.
May 2018
Natural Thinkers: Digging, Planting and Growing
Now the weather has finally improved, the children have been busy in the garden, turning soil, pulling out weeds and planting seeds. They have planted lots of herbs, fruits and vegetables and collectively wrote rules on how to care for our garden. The children have been ensuring the growing plants have been getting regular water, independently watering them throughout the day.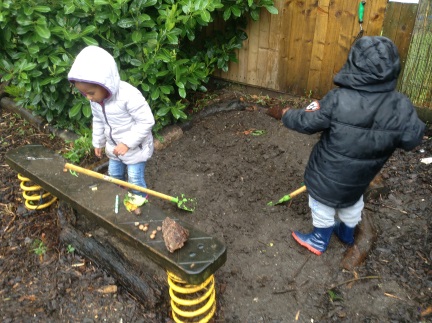 A digging area has been developed in the outside area, with the help of the children. There has been lots of imaginative play and looking for mini-beasts in this area. The children have been using mini-beast charts to identify the different creatures they have found.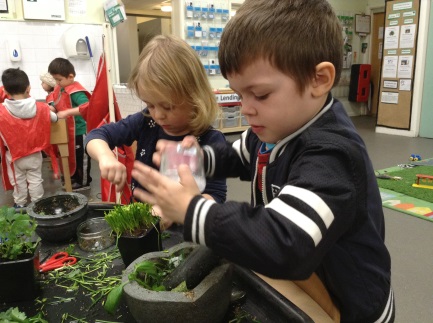 Inside, the children have been exploring different herbs and vegetables – using a range of tools to find out how they can crush and break the items. They have found different ways to break the herbs and enjoyed the hands on approach, noticing the smells left on their hands by the herbs. The nursery has been filled with a variety of different aromas and the children's curiosity has been evident as they ask questions and explain their thinking.
Cold Stories
All of the children have had the opportunity to tell their own 'cold stories,' using their imaginations and experiences of different books. This has enabled practitioners to really see the progression in the children's communication skills, imaginations, storytelling techniques and their knowledge of story structures. Some children have also made puppets to go with their stories, which they have used to help them when acting their stories out.