Art Projects
Anni McTavish is an Early Years Creative Arts Consultant, with over thirty years in the field of early education. She has been both a practitioner, deputy and Headteacher, and has worked across the UK, Europe and Internationally. Trained originally as a fine bookbinder, she also ran her own business as a designer hatmaker. An Associate of Early Education, she works on a range of projects, writes books and articles.
During the Summer Term 2022, Anni is leading a Block Play Project with the Pembury Team and children.
Block Play Project
Anni is working with the team during the summer term to support children's personal, social and emotional development, vocabulary, number, and creative thinking through block-play and construction.
As a provocation to start the project, the children were introduced to a fascinating book called, 'Billions of Bricks' by Kurt Cyrus.

The children then built some very tall structures.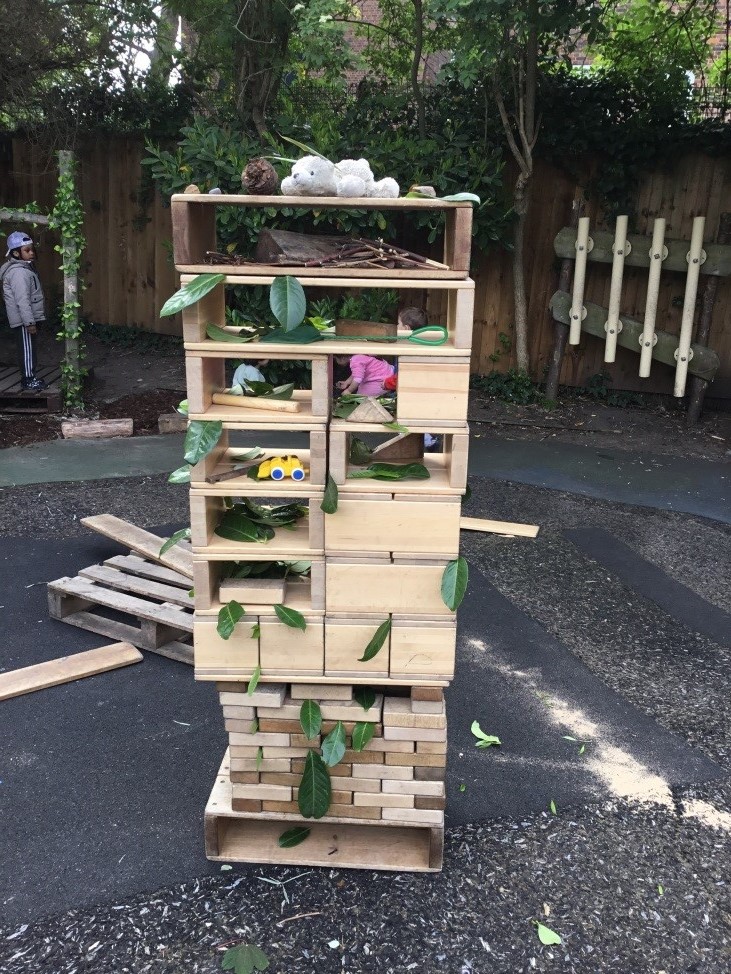 They measured them to see just how tall they were.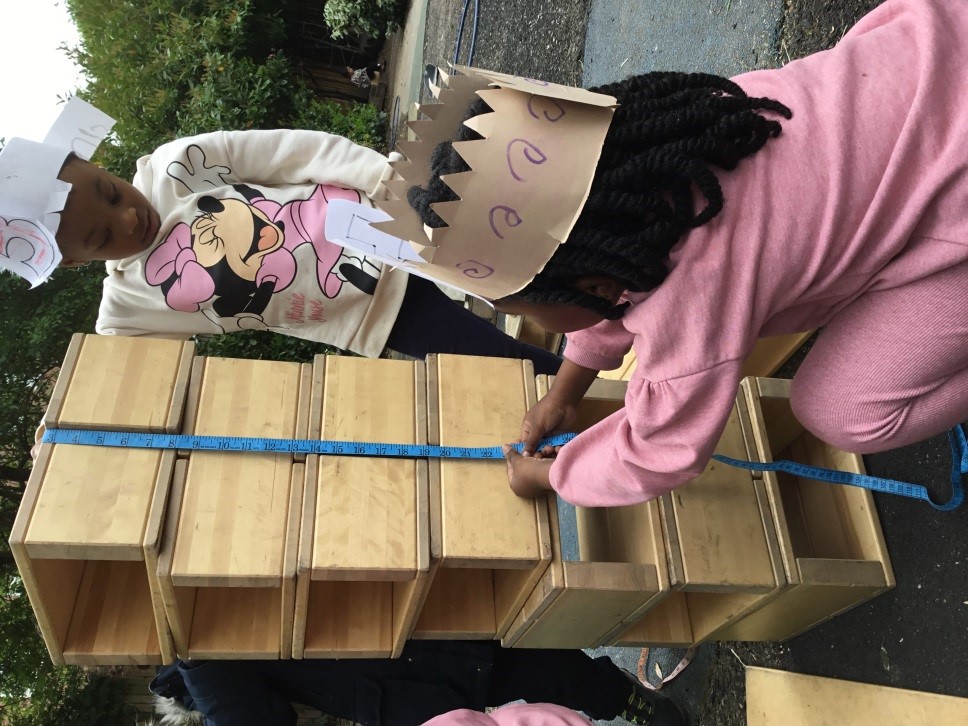 We have beautiful wooden blocks at nursery, both indoors and out, for the children to play with. One of our projects this term is a focus on creative and innovative ways to use blocks.
Block play allows children to build on both large and small scales. Large scale hollow blocks offer children a whole-body experience, whereas the smaller blocks, often combined with natural materials or small world people or cars, encourages children to construct with smaller finger movements. We have large blocks outdoors and smaller unit blocks indoors to support different types of play and learning.
As well as gross and fine motor development, block play supports children's personal, social and emotional skills, as they learn to take turns, negotiate, problem-solve and collaborate on different building projects. Children are developing their understanding of number, size, shape and measuring, along with their communication and vocabulary.
The children have been enjoying building cars and buses and going on imaginary journeys. To extend this further, the children went out in small groups with their teachers to take photographs of nearby buildings and other things of interest. These images have been used as a provocation to spark new ideas – children have been building a theatre, others have been using blocks to make a framework around their bodies, and we have also been exploring creating mazes in the outdoor space.
Maths through Art Project
Developing maths through the expressive arts has many possibilities!
In this summer project we will be looking at patterns and shapes in nature (fractals) to inspire artworks with materials such as: shells, seedpods, leaves, wood, pebbles, etc.
The children will be introduced to both well-known and local artists and through this, different mathematical language and concepts, such as pattern, shape and number. For example, we will be exploring the work of Minnie Pwerle, an Aboriginal artist with a passion for colour, pattern and stories.
The children will then have the opportunity to explore a range of art media, skills and techniques, for instance, working with oil pastels, textured paint and clay (supplied by a local pottery studio). We will be experimenting with mono-printing, repeating patterns, relief and tile work, as well as maths songs and movement games.